Reduce Expenses & Improve Cash Security – at the same time.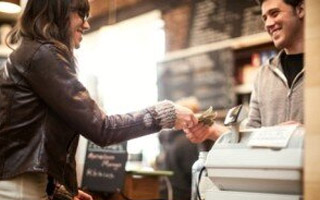 For retailers, quick-service restaurants, convenience stores, fast-food chains, and other businesses that deal with cash payments, the loss of a day's worth of cash is a huge concern and will have an immediate and significant impact on the bottom line. Fortunately, measures can be taken to mitigate this risk – and reduce your overhead expenses at the same time. Taking steps to improve cash flow and availability while reducing risk will give you peace of mind and help to ensure that your hard-earned revenues are available when you need them.
Use a Single Point of Contact and Collection
When your employees handle your cash, you face increased risk and potential confusion. If your inventory sold and cash receipts vary at the end of the month – or when you reconcile – you can't be sure where that missing revenue went. You'll have to backtrack and determine who was working, who was closing, and what may have happened to your cash revenues. If using multiple vendors, you must deal with the burden of coordination.
When you work with a comprehensive cash handling service, you have a single point of contact to help you increase your productivity and accountability. You'll be able to see the amount of revenue collected each day in real time. Comprehensive reporting tracks income and gives you a good idea of where you stand at a glance. If you do discover a discrepancy, you can pinpoint the exact moment it happened and easily launch an investigation if needed. Cash processing is streamlined, and takes far less time – and you also get to enjoy peace of mind that your cash deposits will arrive at your bank as expected.
Reduce Labor Costs
When your employees handle your cash receipts at the end of the night, they are using work hours that could be better used to properly close out and clean up. Unless you have the same closer every night, you also have to spend time training and then overseeing these key employees to ensure they're handling the store's cash properly.
When you outsource your cash handling tasks, these steps are performed by a qualified, licensed, and insured provider who is an expert at processing, collecting, reconciling, and securing cash receipts. This can help you reduce expenses since you don't have to spend your valuable time training, supervising, and following up on cash management. It also reduces risk and ensures that the cash your business made actually makes it to your bank account – and quickly.
Eliminate Risk of Loss
A cash handling service allows you to place your cash revenue in a secure safe to await collection, instead of relying on an employee to successfully deliver the money to your bank. Losses can, and do, happen when your team is put in charge of cash delivery; from robbery to employee theft, you risk your earnings when you rely on an employee to deliver them.
You're protected from risk and loss in more ways than one when you outsource your cash handling activities. If you partner with a quality provider like Integrated Cash Logistics, you're covered even while the cash is still in your store. ICL purchases your cash from you every day – and pays you back for it in a timely manner – and all-risk insurance covers "ICL's cash" even while it's in your store – so you can rest assured that your cash is always secure, and always insured.
Cut Equipment and Carrier Costs
If you're paying for an armored car pickup, buying expensive safes or equipment, or using multiple vendors, you can eliminate these ongoing costs by using a single cash handling provider. All equipment, including a smart safe, is provided upfront, and pricing is transparent – without hidden fees or costs that impact your bottom line.
---
ICL's unique and secure approach to cash handling allows us to save you money and time – and to ensure your cash revenues arrive in your account as you expect them to. It's truly your shortest distance to cash.