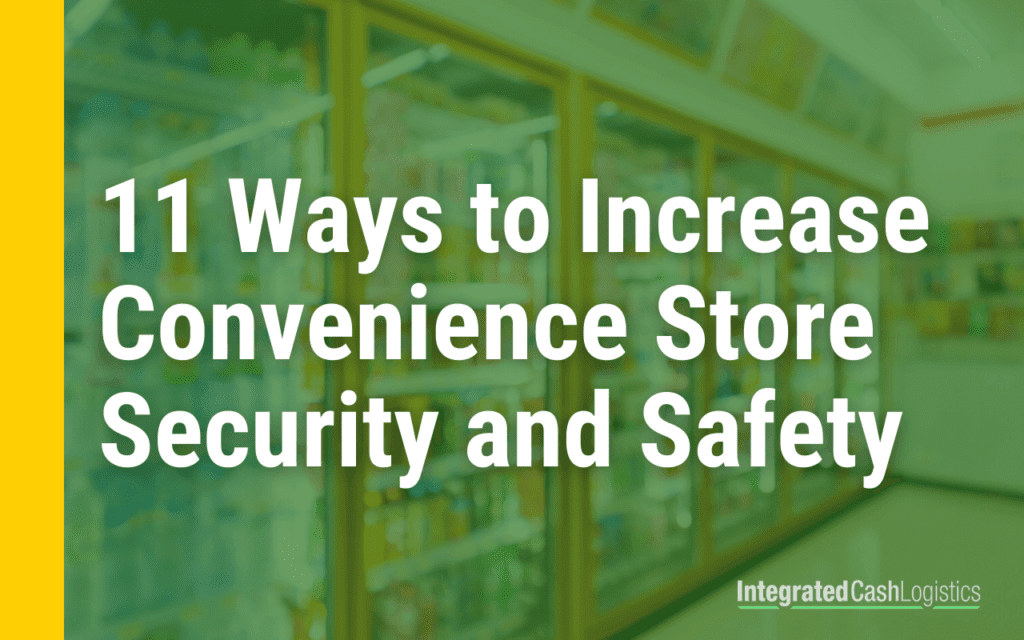 Robberies in the U.S. increased by 19% from 2021 to 2022 according to the Council on Criminal Justice (CCJ). Late hours and large amounts of cash on hand make convenience stores especially high risk for crime, so it's no wonder that convenience store owners and managers are focused on store security. 
As violent crime continues to rise in the U.S., store security is more important than ever. Convenience store security includes safety for employees and customers as well as preventing merchandise and revenue loss. With ongoing convenience store expenses, planning for security and safety become even more critical to keep your business running smoothly. Below are 11 ways to increase convenience store safety through employee training, improved building security, and leveraging technology.
Integrated Cash Logistics real-time reporting and cash-capture technology keep you with customers instead of in backrooms.
How to Improve Convenience Store Security and Safety
Running a convenience store involves juggling a lot of moving parts like building maintenance, inventory, and cash drops. If upgrading your store security doesn't seem feasible right now, you may be surprised at the small changes you can make that have a big impact. This guide covers how to effectively and smartly improve shop security by focusing on three main areas:
Security Risk Factors for Convenience Stores
Based on data from the FBI's Law Enforcement Data Explorer, convenience stores and gas stations had 37,561 reported violent criminal offenses (including robberies) in 2021. Not only do these crimes put employees and other customers at risk of physical and emotional harm, they mean lost merchandise and revenue for business owners. Theft of merchandise, gift cards, or cash can occur externally or internally by employees. The data below is from the National Retail Federation's 2022 yearly retail security survey:
Retail theft increased by 26.5% from 2020 to 2021
Inventory and cash loss accounted for $94.5 billion
37% of inventory and cash loss was due to external theft
28.5% of inventory and cash loss was due to employee theft
Convenience Store Security
This section focuses on security measures for the physical building and property the store is located on. This includes inside and outside the store.
When thinking about security for stores, try to think like a criminal. Criminals often target convenience stores with easy entrances/exits and places they can hide before or after the crime. Securing entrances/exits can help prevent crime from occurring in the first place. Keeping the property well-lit and monitored at all times can also help.
Improve Lighting In and Around Store
Robberies often happen at night when there are fewer people out. Bright lights on the inside and outside of the store can reduce the chances of a robbery. Bright lights surrounding the building can also deter loitering. Exterior lights should illuminate the entire property and stay on all night.
The ideal option for the exterior is cool white lights with a color temperature of around 4000K.
You'll also want to choose LED lights to conserve energy and save on your electric bill without sacrificing brightness. Lastly, check all lights weekly and replace any that are dim or out right away.
Invest in Gates and Locks for Doorways and Windows
Many convenience stores have large glass windows and doors to increase visibility and draw customers into the store. Gates across the outside of glass doors and windows help deter criminals from breaking windows when the store is closed.
If you are in an area with a high rate of gun violence, consider investing in bulletproof windows separating customers from employees working the register. You can also use gates or security cages to secure items at high risk of theft such as cigarettes and electronics.
Minimize Blind Spots
An ideal convenience store layout allows employees to easily monitor all areas of the store from the cash register. Since this is not usually possible, put more valuable items and those that are at high risk of theft closer to the front of the store. Employees should also have a clear view of all entrances and exits. Putting signs and ads in the windows is a common marketing strategy of convenience stores, but be careful not to block the checkout counter and cash register area from outside view.
Utilize Security Cameras
Convenience store security cameras can be very effective when set up and positioned properly. A study from the University of North Carolina states that security cameras are the number one deterrent to potential robbers. The ideal places for cameras are:
At all entrances
At all cash registers
In the backroom and/or stockroom
At delivery areas
Near high-value items such as liquor
The best retail store security systems use CCTV cameras with high-resolution and night vision. Some cameras record continuously while others are motion activated. Recordings should be saved for at least 30 days.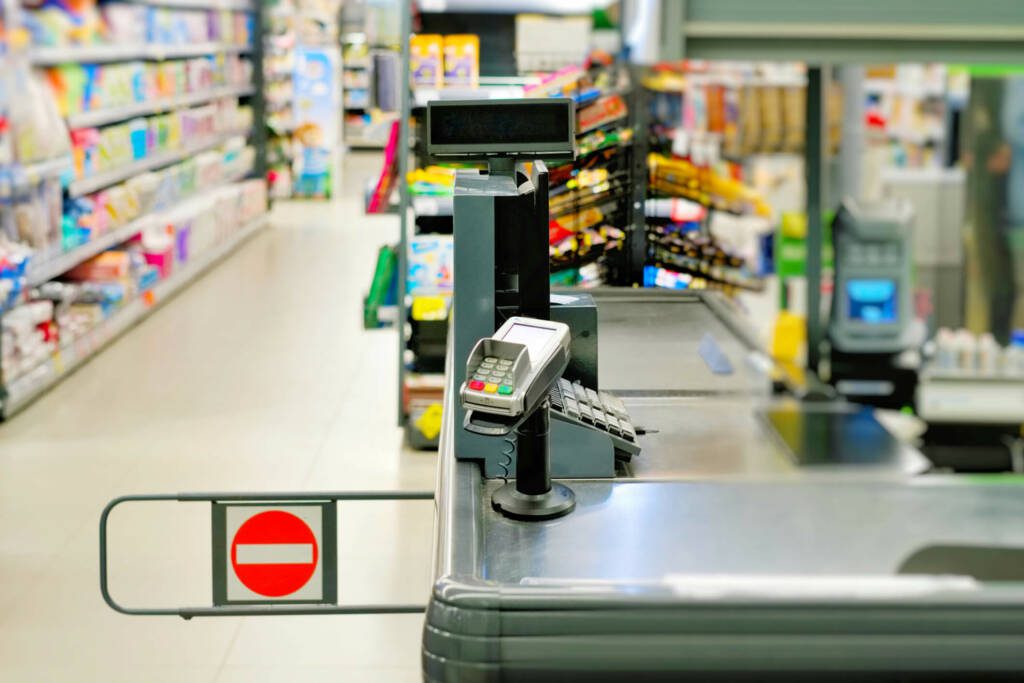 Learn more store operation tips for keeping your cash secure from Integrated Cash Logistics' blog.
Employee and Customer Safety and Security
While preventing merchandise theft is important, employee and customer safety should always be the top concern of convenience stores. And, improving convenience store security can actually increase employee retention and customer satisfaction. It's a win-win. You can also involve employees in developing and improving retail security since they are experts on day-to-day operations in the store.
Develop and Implement Safety Policies and Procedures
Planning ahead is vital to keeping your convenience store safe. Think through potential dangers and emergencies before they occur to determine how to prevent them. Safety policies and procedures should be clearly defined, written down, and displayed in a prominent spot for employees to reference as needed.
Safety policies and procedures should include:
How to identify and report suspicious activity
When to contact emergency services
What to do in the event of natural disasters such as a flood or earthquake
How to handle customer and staff medical emergencies
How to respond to other emergencies such as a fire in the store
Regularly Train Employees on Safety and Security Best Practices
All new employee onboarding should include training on the store's safety policies and procedures. Because it can take time for a new employee to internalize procedures, consider posting a convenience store safety checklist in the backroom to guide them. The Association For Convenience & Fuel Retailing (NACS) sells a pre-made one. Also, it is normal for people to forget things over time, so try to conduct regular safety training to refresh employees' memories.
Keep Entryways and Aisles Clean and Free of Debris
The other key part of keeping customers and staff safe is accident prevention. Taking preventative measures such as keeping floors clean and dry can help reduce the risk of lawsuits or workers' compensation claims. Aisles and doorways should be kept clear at all times and heavy items should be stored on low shelves. Additional precautions or adjustments may be needed depending on the accessibility requirements of your state and the needs of your customers and staff.
Change how your money is managed with ICL's single point of contact services that streamlines everything from change orders to tracking deposits.
Money Handling and Cash Procedures
Money is one of the biggest worries for business owners and operators alike. Convenience store customers often pay in cash, the least secure form of payment. That means these stores are at a high risk of revenue loss from internal or external theft and improper handling. Implementing smart strategies for money handling can ease store owners' worries and prevent potential losses.
Develop Cash Handling Procedures and Register Best Practices
Create clearly defined money management procedures and a convenience store shift checklist for your employees to ensure accurate cash handling. Include details on:
When and how to count cash in the cash register
Cash handling best practices like all bills facing the same direction
When cash should be transferred to a safe or dropbox
What happens when there is a discrepancy
How to reorder bills and coins
Reduce the Amount of Cash on Hand
The less cash there is in the registers at any given time, the lower the potential loss is if the store is robbed. On busy days, consider balancing the register multiple times throughout the day so that the amount of cash stays low. You do not need more than $200 in the register at a time.
Although, if you are busy or short-staffed, you may end up with a much larger amount before you can deposit the cash into a safe. Furthermore, daily deposits at the bank can reduce the amount of cash on the property overall.
Improving Cash Security with Smart Safes
Smart safes automatically count and record the amount of money deposited while checking for counterfeit bills as well. If you have multiple employees depositing cash, this is a great way to monitor cash flow and address any discrepancies as there will be a record of all deposits including the time and amount deposited.
Investing in Cash Capture Technology
The next advancement in smart safes, cash capture technology is a game changer for cash-reliant businesses. In most cases, cash is only protected while it's still within the safe. If the money is lost or stolen, the business is left responsible to cover the cost. Factor in daily trips to the bank and the risks grow exponentially. However, with solutions like Integrated Cash Logistics cash capture technology, deposits are immediately bought and deposited by ICL within one day. This added assurance means once cash is in the safe, you are no longer liable. Plus ICL's portal keeps track of deposits and notifies you of any discrepancies to make reporting and reconciliation even easier.
Partner With A Cash Handling Service
Using a cash management service helps free up time for convenience store owners and operators so that they can focus on other important tasks. The cash management service handles cash drop-offs to the bank, coin reorders, and cash reports.
Integrated Cash Logistics Simplifies How Your Business Controls Cash
By combining physical security efforts like better lighting and cameras with employee safety training and cash handling optimization, you can significantly improve your store security system. Whether you are a privately owned convenience store or work for a retail chain, ICL can help you streamline cash management procedures and minimize losses. Discover the Integrated Cash Logistics difference today to learn more about how we can transform your convenience store's security.